by Continental Club on June 13, 2010
Nine months ago, it was all about the baby; today it's the turn of the grand-daddy of the current Airbus range to strut its stuff. So, welcome on board the SuperJumbo; the WhaleJet; the Uglybus: the A380-800. Although the first of its type entered commercial service on the 25 October 2007 with Singapore Airlines, only now in mid 2010 are deliveries accelerating and carriers are beginning to offer multiple route choices and frequencies. The latest to receive its first example is German flag-carrier Lufthansa; Singapore Airlines' cohort now out-numbers the size of its operational Boeing 747-400 fleet, Qantas offer service on both Trans-Pacific and 'Kangaroo' routes, and Emirates have just signed an order which will ultimately see their livery on 90 examples of the type.
In the middle of this,
Air France
has taken delivery of its third A380 and is preparing for the arrival of its fourth. As route options increase, the need to speed up the pace of crew familiarisation and the happy circumstance of at least one aircraft currently spending the day on the ground in Paris, has prompted the airline to schedule a weekend-daily return flight from Charles de Gaulle to London Heathrow over the Summer months of 2010.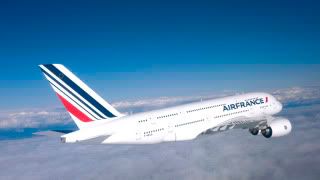 Making the flight available for sale to revenue passengers not only reduces the net cost of the familiarisation process, but it also exposes the aircraft to a greater number of passengers than would otherwise gain first-hand experience of the type.
The fact that it also rather spectacularly waves the Tricolore across a corner of this Sceptered Isle would no doubt have gone down well with Napoleon and de Gaulle too.
So, with that in mind, leessen vairy carefooly; I shall say zees only once:
It's time for The Prologue….

---