by Continental Club on March 5, 2011
Continental Club's capital excursions tend to be bound at both ends by swift rides aboard the iron horse, or else brief blasts skywards in pressurised aluminium tubes, with nary a sunset 'twixt travels. It's something rather out-of-the-ordinary, then, for CC's head to rest on a London bed.
W Hotel London Leicester Square, which opened on Valentine's Day 2011 barely an arrow's flight from the bow of Eros in Piccadilly Circus is, according to parent Starwood Hotels and Resorts Worldwide, Inc., something out-of-the-ordinary too. So, in the manner of a latter-day Dick Whittington, CC struck out for the metropolis with Samsonite and iPad in place of spotted hanky and stick, to test whether this third Euro-outpost of design-pioneers W Hotels brings woeful or wonderful to the West End.
Conscientious readers will remember that Continental Club has already sampled W beachside in Barcelona. Somewhat surprisingly, this traditional traveller found the place mostly impressive with just a few soft-product and service issues. A corner of London's Leicester Square couldn't be more different from the sands of Playa Sant Sebastiá though, and the W London's glass-cloaked, internally-lit, constantly colour-changing bulk couldn't look more different from the low-rise, bell-festooned, clock-fronted Swiss Centre that formerly occupied the Soho site. So whatever else, it was obvious upon arrival that this was neither Catalan clone nor imperfect conversion of existing construction.
The hotel's main entrance is just off Leicester Square on Wardour Street; the portal difficult to miss with its glowing sculpture of a sign presenting an initial welcome of unashamedly brazen branding.
Once inside, W 'Insiders' are on hand to guide guests from what is little more than a lift lobby and into leather-quilted elevators reminiscent of rooms that might otherwise be rented by the hour a few streets away.
As the hide-bound cabin's portals part, it's a view far-removed from Barcelona's red-throated atrium; instead, it's glitter-balls, polished floors, spotlights, lots more leather and posing-table-perching staff, each of them smart as new pins and smiling teeth-twinkling welcomes in serious competition with the reflected lightshows above and below.
Unlike the designer suit-clad automata in too many other London residences however, the style here is Barbour British teamed with Converse Cool. Some of the staff admit to being Barcelona veterans, yet the atmosphere is one of enthusiastic efficiency, rather than Mediterraneo-manic.
Checked-in and whisked back to the bovine ascenders, our Insider escort lifts us to the fourth floor at which, in case of doubt, our location is verified by the presence of yet more glittery globes, this time stationary and numerically-suspended.
Arrival at the correct quarters is confirmed with disco-Braille door digits, behind which our Studio Suite lurks…..
From glitter-studded but club-subdued corridor lighting, the door opens on an altogether lighter, brighter atmosphere, with blonde wood flooring,  skirting-to-ceiling mirrors and windows, and cream pannelling – albeit again in that den-of-discipline cow-covering.
The bed is the W standard; a pillow-topped mattress with 300 thread-count linens and goose-down duvet. Anything but 'standard', in fact.
The design detail is obvious – with recessed lighting at seemingly every opportunity….
….including under the bedside tables and levitating the bed itself.
There's a sizeable work area, which looks out to the street rather than into the usual hotel-room mirror.
And, beyond the bed, in the space which forms the corner of the hotel building, a chaise longue and coffee table where a selection of weighty but glossy tomes are to be found.
Web access is wired or WiFi, but mobile signal was something of a struggle in our room.
There's a swanky LCD TV at the foot of the bed, next to the desk, which pivots nicely to aid viewing from every seating, lounging and lying angle in the room. There's even a little stool to balance on if a close-up of Helena Christensen or David Gandy is rendered essential, as they play out their roles in the hotel-commissioned film Away We Stay.
The bathroom in this Studio Suite is spacious, though features a shower only, rather than a bath tub.
It's a roomy cabin with both a rainfall head and a wand attachment.
Above the vanity unit and in line of sight of the shower is another LCD TV, and the toiletries are once again the overly-generous, hand-luggage-busting Bliss bottles of goo. As in Barcelona, 20ml too much of a good thing in each one.
The WC is just that – plumbing in a cupboard – a frosted, glassed-in closet off the bathroom, which replicates the manner in which the loo is located in non-suite rooms.
For in the so-called Wonderful, Spectacular and Fabulous rooms, the non-dowsing and evacuating facilities which would normally be found in a bathroom, are in fact incorporated into the living/sleeping space. The processes of privacy are conducted in the aforementioned frosted cupboards; one for flushing and one for drenching. The sink and vanity are merged into the desk and work space, making for a combined laptop and lipstick station.
As darkness drapes itself across the capital, it's time to venture back to the lobby level and glitterama. To the Lounge then, and the commencement of a libatious soiree untroubled by chewing, firstly assuming a position backed by two-storey high piles of plates and looking out through similarly lofty windows onto the evening outside.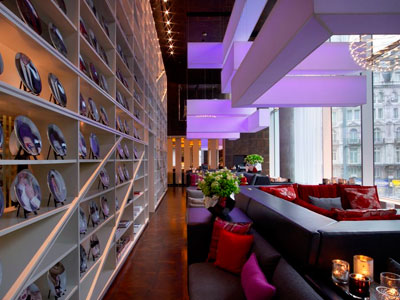 A couple of Sir Winston cocktails later; cognac, lime, Orgeat, mint and a dash of fizz – and the heels are cooled sufficiently to consider skating onward, past the plates, and beneath sparkling sputnik and Tetris-esque lampshades that morph slowly through moody hues….
….and into the W Lounge Bar, a more open space with longer sight-lines, yet more of that recessed illumination seen first in the suite, wavily curvilinear fixtures and furniture, and glazed cylinders housing artful flames….
….before the final destination is reached: Wyld Bar – an invitation-only room of black leather banquettes wrapped round a multi-storey bar, featuring an oversized mirrorball which casts its glittery revolutions out on to Leicester Square below, and a cocktail menu anchored (if not floated) on a multitudinous range of premium tequilas.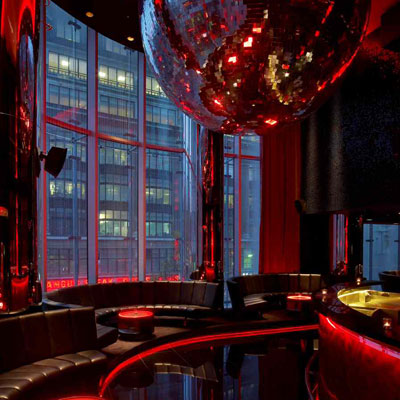 Following a few of which, frankly, it's a rare relief that the hotel's omnipresent but invisible, anonymous yet pseudonymous Mr W saw fit to front those dormitory doors with his disco-Braille digits, for when goggle-eyed gazing inevitably does nothing to reassure that the right room has been reached.
So, what of the W then? A triumph of hype over hospitality, or a modern interpretation of accomplished accommodation?
Well despite the glamour and the glitterballs, Continental Club couldn't help but feel the touch of some seriously old-fashioned hotelling going on behind the bling. Not for W the pared-down conformity of forgettable lodgings; this is a destination of detail, of imagination and elaboration, of care and consideration. The guestrooms, as opposed to the suites, are undoubtedly small, but there again Leicester Square is not generally regarded as a long-stay location. As a central crashpad of clever design and comfort, they're likely to be perfectly-pitched. For those needing more elbow-room, the suites are characterful and of designs unique in London – all the way up to the WOW and E WOW suites with their 'team tubs' and sociable four-person showers.
There's ample evidence of the thought that has gone into the design of the building, the training of the staff and the image that the hotel seeks to portray too. Only stickily slow-service in the Lounge marred the otherwise universal impression of keen and capable employees, and an uninspiring late-night room-service burger jarred a touch with the premium positioning of W.
Our stay was too brief (and the hangover too acute) to sample the hotel's dining options, including highly-regarded US chef Jean-Georges Vongerichten's first foray into London with his Spice Market restaurant on the ground floor, nor the Away Spa, but the overall impression is nevertheless one of a very welcome addition not only to the London hotel scene, but also of a stylish, fun and sophisticated evening venue in an area of the city which is not awash with high-quality bars and lounges.
Mr W did well. Very well.

---